---
Everything we have ever heard about fairy tales comes from Bayern.
And I mean EVERYTHING. The longer I live here, the more I realize "The Walt Disney Company" should be called "The Walt Bayern Company". Every single fairy tale story I have ever heard originates here. And the mother ship is the Neuschwanstein Castle.
This beauty is about 124 km from Munich in the village of village of Hohenschwangau. It was commissioned by King Ludwig II of Bavaria and paid it out of his own pocket (and some huuuge borrowing of course). More than 1 million people visit it every year. Bet that borrowing really paid off! And yes, it's safe to say that the Disney castle was based on this castle. We've been waiting for this weather for a very long time. In autumn everything looks sexier!
It's kinda of a long ride to the Disney, I mean Neuschwanstein castle, but the little pueblos you drive through are a beauty so take your time, take lots of pictures and enjoy! I mean look at this dreamy pit stop we found. The cows had little bells on them as is the tradition and the mountains on the back, common!
Since autumn is "Kürbis" (pumpkin) time we made yet another pit stop at a Kürbis stand. We are pretty ignorant in the Kürbis department, so we kinda had to google what types of pumpkins to buy. The recipes you can find on the stand the farmers are kind enough to give you some ideas 🙂
And so we made it to Disney World 😀 I don't know why but lately I've been obsessed with taking pictures of us jumping. My poor esposo has just given up on this matter and just accepted it. I guess I want to take advantage of the fact that we are still young enough to jump; once we are too viejitos to do this type of pics, well… my esposo is going to have to throw me and my wheelchair in the air. We are going to need a really looooong self-timer indeed.
We always park a bit far from the castle parking. It's more relaxed and not so full of tourists. To get to the top you can rent carriage pulled by poor horses that go up and down and up again carrying up to 6 people with no help whatsoever, making exhausting sound on their way up and down again, OR you can walk. Which you should. But hey. No judgement (not!) 😀 The views start to get prettier and prettier.
My esposo was down to his last layer of clothing on our way up, so was I. It's quite the exercise getting to the top, and even though we felt like this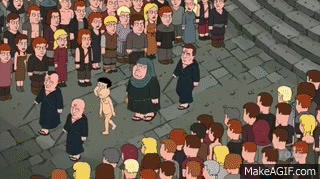 It was soooo worth it (if you are tired imagine the horses! Just sayin'!). Look at these views.
And now, who will dare tell me that verano is better than otoño???